From The Chairman's Desk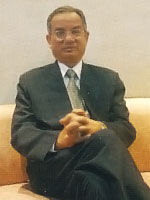 Mr. R.K. Dharia
Chairman, Aditya Group
For more than fifty years, we have had fruitful relationship with corporations around the world, for one simple reason, only our uncompromising work ethic.

Maintaining an unrelenting focus on improving processes, becoming more customer-centric, streamlining operations these have been a part of our ethos since inception.

Our customers choose us because we know the business inside out, because of our obsession with quality, our time-consciousness and our ability to deliver. The fact that the company has people with abundance exposure in the field of Management, Finance and Engineering, has worked in our favor.

Integrity, Experience, Quality, Fair Pricing and Timely Delivery are the attributes that make us a preferred supplier of steel pipes and tubes for our clients across the globe. The team at Aditya Group is constantly working towards the mission providing our Customers with the very best and maintaining the market leader position.
---